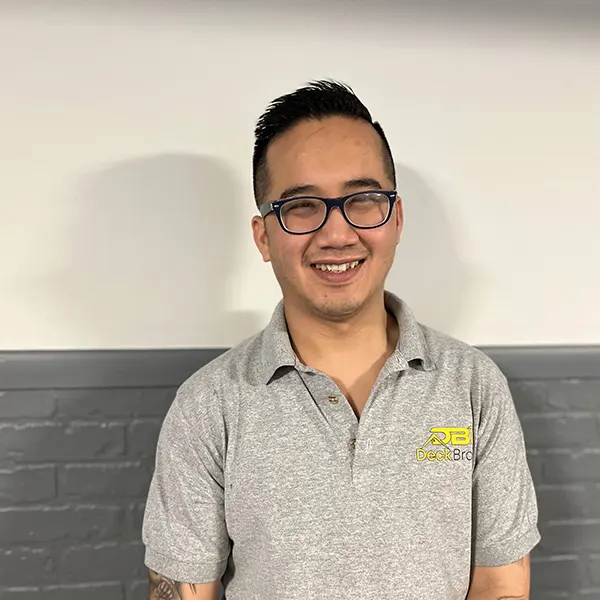 " We are always looking for ways to improve our service. If you've enjoyed working with us, feel free to leave us a review. Your feedback is valuable to us and helps other customers make an informed decision too. "
- Luan Nguyen, owner of Deck Bros
Reviews From Happy Clients
We care about our customers and want you to be fully satisfied with the service we provide. Read what other homeowners have said about working with us and find out more about the quality of our work.
Deck Bros showed up at 8:00 am and worked until dark everyday. They had old deck torn down in one day. We are very happy with the finished product. We went with Deck Bros because of Luan's charming personality but they can also build a sweet deck!!!! Thanks Luan and team👍🏼👍🏼👍🏼👍🏼
Thank you Kevin, You and your wife are such a joy to be around. Thank you for having complete faith in us.
They did a excellent job. Crew was professional. I live 2 hours from omaha and they took the job without that being an issue. Our deck turned out beautiful. We have the best looking deck in town. I am so glad that we chose Deck Brothers. If you want quality 👌 go with Deck Brothers It will the best choice you make.
We love the opportunity. Thank you Travis.
Consider Deck Bros one of the best companies I have ever worked with. I had my old deck taken down and a new deck designed and erected all in a period of six days. Luan the designer allowed changes throughout the 6 days. The crew was tremendous in their work assuring the work met all safety requirements as well as starting each morning and keeping grounds cleaned up each evening as well as keeping us informed of how the job was progressing. If ever need another deck would never consider another company but Deck Bros. They are the best.
We love working with you Tom! Thank you for the kind words.
Luan and his team were quick to respond and came up with a design and quotes the next day. Price was a good value and met every detail we asked for.
The team was on time everyday and were hard working, efficient and kept the space clean and organized.
They were professional and seemed to enjoy their work- even caught a glimpse of some dancing 😊.
We are very happy with our deck and would highly recommend this business. 
We love working with you!

Deck Bros is INCREDIBLE. Seriously. I can't say enough great things about my experience with Luan and his crew.
I spent months getting bids, talking to contractors and doing research. I talked to big companies, lone contractors, and everything in between. I didn't feel like any of them were a good fit OR trustworthy until I talked to Luan with Deck Bros.
Luan came to my home and talked to me about what I wanted, how much I wanted to spend, and what time frame I wanted things done in. He brought samples, pictures of his work, and walked around my current deck with me to discuss what I wanted to see. He was honest about the difference between higher priced products and those that were a little more affordable, and made sure I had time to go to his suppliers (Builders Supply) to pick out the materials I wanted before his team got to work.
Once I picked out all the material for decking, railings, low voltage lights, under decking and gutters, we agreed on a price that I was comfortable with and was EXTREMELY competitive with the other bigger companies in town. You pay for what you get, and the price was right for the quality of work they did.
The materials came in quickly, and after my down payment his crew was here the next day. Deck Bros crew carefully removed the old deck, made sure to be kind and careful of my dogs when I let them outside, and picked up after themselves. The crew was friendly and tried to not impact my families day to day life.
The deck came together quickly, with his crew getting started promptly at 8am and staying most evenings until they were out of sunlight. We planned a monster deck; 50 feet wide and 14 feet long with low voltage lighting and under decking for water drainage. Deck Bros got the job done in 10 days, which is 2 weeks faster and 9 months sooner than the competition quoted me.
Luan was on site almost every day to make sure things were going smoothly, and kept in touch with me via text and phone when anything came up.
I honestly can't say enough great things about Deck Bros. I took a chance on the new company, and I'm so glad we did. My deck is GORGEOUS, sturdy, and turned out exactly as I requested.
Shortly after installation, there was a small leak from a screw that went through a waterproofing membrane. Luan and his crew were out THE NEXT DAY and fixed it. No bother, no multiple requests; One phone call and the problem was taken care of.
The ONLY small issue we had was Builders Supply not picking up excess material in a timely fashion. I had to park on the street and was a victim of a hit and run. I called Luan to tell him, and Luan not only had Builders Supply out the next day to pick up materials, BUT HE PAID MY INSURANCE DEDUCTIBLE.
If you aren't using Deck Bros for your next deck, you're using the wrong company. These guys work hard, they work quick, and the results are as close to perfect as humans can get. A++ 
Mike,
Absolutely an amazing time working with you my guy. Killer design. Turned out fantastic!
Luan 
Great product, great price, and great service. The Deckbros exceeded my expectations and I couldn't be happier. I wish I had 2 decks I needed to be built. 6/5 would recommend to anyone looking for an amazing deck. Thanks guys!!
Joe,
Thank you for the kind words! Love the new deck. 
Luan and his team removed an old wood deck and installed a new composite deck with a hottub enclosure. I absolutely love it. He was on-time, in budget, and his crew worked fast and was so respectful of my yard, cleaning everything up after they finished.
This is so great to hear, Evie! We are so happy that you love your new deck and that the team did such a great job for you!
Bought a brand new house and the deck didn't have any stairs. Deck bros were super fast and built an amazing product! I would recommend deck bros to anyone!
Thank you Banjo!
We love your energy and definitely love working with you! 
Replacing our worried us because of the roof over it. We have a walk out basement, so wasn't sure how this would go. Luan & his team did an excellent job! It all went smoothly and we'd recommend Deck Bros to anyone 👍🏻
Thank you Sue! You were very kind to work with!
Luan and his crew are first rate deck builders. They refurbished and re-supported our old deck and added on additional new decking in a week after all was approved by the city of Lavista. The only problems were with the composite supplier which Luan handled quickly. Definitely recommend them if you are looking for a new deck or want to update an old one.
So glad we can bring your vision to life. It was a blessing working with you guys!
Found Deck Bros on Facebook & gave them a call, the owner Luan was very pleasant & came out, gave me a quote on the spot, I HIGHLY Recommended this company for your decking needs, Luan's employees were so much fun to be around, they didn't have any issues with the dogs being around checking on their work,
They were all very professional & worked hard, arriving early & getting to work, we even did some salsa dancing to the music, they went Above & Beyond & no request was an issue.
Thank You, Luan, & the main guys that were there every day, Christian, Carlos & Leo. 
We hired Luan and his crew to touch up our deck prior to selling our house. They came on time and found that the deck was in worse shape that it appeared. Without raising the price, they went out of their way to replace all the railing and even put in new stairs for it. The deck looked great afterward and was one of the big selling point for our house.
Thank you Nick for giving us an opportunity to serve you!
Quick call turned into a quick 10×10 above ground pool deck. Luan was professional and energetic and kept us in the loop. Highly recommend.
Tom,
You were very kind to us. Thank you. 
Very professional. Quick and efficient as well. Highly recommended.
The owner was very responsive, crew talented, and work done to last a long time. Work was completed on time and project started quickly.
Jason. We love your space! Glad we can contribute something to your guys beautiful home.
Did a great job sealing our deck and porch! Appreciated their flexibility in working around the weather! Will definitely use them in the future!
Deck Bros did a wonderful job on my new deck in a timely manner. I highly recommend them for anyone who wants the enjoyment of a new beautiful deck. I'm very pleased. Thank you.
Thank you Christine,
What a pleasure to bring your Vision to life.